Overview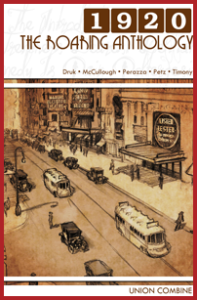 As the Lost Generation struggled to move past the devastation of The Great War they embraced massive social change. Jazz, movies, and technological innovation mixed with gangsters, prohibition, and political upheaval. By the end of the decade Black Thursday would usher in the Great Depression and the world would grow steadily darker. But this was just the beginning.
1920: The Roaring Anthology includes five loosely connected short tales of action, mystery, and suspense.
Stories
THE INTRODUCTION by Julia Druk
Wally Pendleton imagined a life of fame and importance yet, somehow, he found himself – and more – as a mundane census worker.
TRENCHERS by Ron Perazza
Great War veteran Charlie Clerk returns to the battlefield to confront an all too familiar enemy lurking in the abandoned trenches and bunkers of Europe.
COMEDY IS PAIN by Peter Timony
The Keystone Kops might be masters of physical comedy but it'll take more than trips and slips for professional slapstick Chuck Cooper to solve a real life Hollywood murder.
POLTERGEIST by Matthew Petz
The vigilante Poltergeist is the scourge of the underworld – literally! Gangsters and the great unknown collide in the streets of New York City on the brink of eldritch horror.
DEAREST DELILAH by Dave McCullough
Jack might be crazy but before he tried to kill himself he needed to explain to Delilah exactly why it wasn't suicide. Hopefully.
Illustrations by Daniel Govar
Available on Amazon, Apple, Barnes & Noble, Inktera, and Smashwords